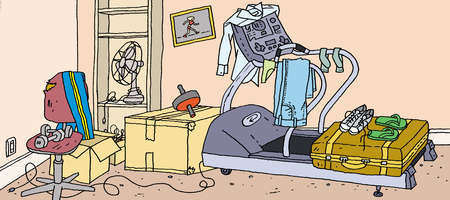 Has your treadmill gotten more love from the laundry than from you lately? Any chance it looks like this? Here's three quick ideas on how to use a treadmill for more than just running!
Stand facing away from the treadmill with your heels on the ground and your calves touching or close to touching the treadmill. Do a sqaut keeping your feet wide, toes out and weight back on your heels until your backside touches the treadmill then stand back up. It's a deep squat and a great exercise!
Put your toes up on the end of the treadmill and walk your hands out to push up position for an advanced elevated push up or plank. Or plant your hands on the end of the treadmill and toes on the floor in push up position for an easier version.
And my favorite....the treadmill pull up!